AAP Testing Center - Professional Development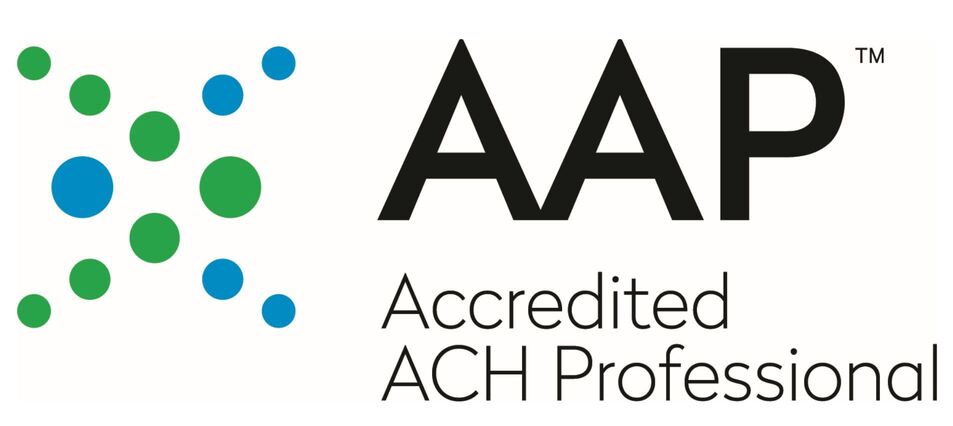 Become a leader and authority in the electronic payments field! Increase your worth and marketability while your organization benefits from your knowledge!
Since its inception in 1993, the AAP Program has recognized 4,500+ ACH professionals. As an AAP, you will be joining this elite group of highly-skilled professionals who are recognized for their electronic payments expertise and who have a strong competitive edge. As an AAP you are recognized throughout the payments industry as a subject matter expert.
"Examiners view having AAPs on staff as extremely important. AAP is the one certification that regulators view as the payments industry standard for accreditation and ongoing education."
Tony DaSilva, AAP, CISA
Supervision & Regulation,
Federal Reserve Bank of Atlanta

"I took the AAP test on October 15 and PASSED!!!!!!! [I took all of the last week off just to decompress from
studying for this test!]
I wanted to THANK YOU and the entire team at SFE that worked on the Summer Study program! The questions that I got for the actual test were nothing like the practice questions (I swear I didn't get asked even one IAT question) BUT how the questions were worded and how the questions 'felt' was just like the practice tests.
Again, THANK YOU! The Study Program was extremely helpful! I also appreciate all of the hard work that has and does go into making it."
Erica Hare, AAP
Electronic Funds Specialist
St. Tammany Federal Credit Union
Prepare for AAP Exam in October. (Select a test date to take the exam from October 5 - 24, 2020.)
We are standing by to help build customized training to suit your learning style and your budget. Please do not hesitate to give us a call to discuss your options. You may also be interested in finding an AAP Buddy to assist in the preparation process.
Plan Your Study Course

SFE's AAP Summer Study Program was designed with the student in mind. This program offers comprehensive knowledge to help you prepare for the AAP exam while providing you with an interactive experience and a valuable support system outside the classroom.
The AAP Exam is offered during the testing window Monday, October 5 – Saturday, October 24. This study program is designed for those planning to take the exam this year. However, attendees can follow the study program for future year testing if desired.


2020 In-Person Workshops
What's New in Payments 2020
8:30 AM to 12:00 PM *9:00 AM to 12:30 PM

February 4 - Ridgeland, MS
February 5 - Mobile, AL
February 6 - Hattiesburg, MS
February 11 - Memphis, TN*
February 11 - New Orleans, LA
February 12 - Baton Rouge, LA*
February 12 - Grenada, MS
February 13 - Jackson, TN
February 19 - Baton Rouge, LA*
February 19 - Jonesboro, AR
February 20 - Dyersburg, TN
February 20 - Lafayette, LA
February 26 - Tupelo, MS
April 21 - VIRTUAL WORKSHOP
ACH Fundamentals
9:00 AM to 12:30 PM
March 4 - Crowley, LA
March 4 - Memphis, TN
March 5 - Baton Rouge, LA
March 5 - Ridgeland, MS
March 10 - Mobile, AL


Advanced ACH Rules Workshop: A Tour of The Rulebook

9:00 AM to 3:30 PM
May 12 - VIRTUAL WORKSHOP


AAP Exam Review

9:00 AM to 3:30 PM

September 9 - Baton Rouge, LA
September 10 - Memphis, TN
September 10 - Ridgeland, MS
To register for one of these classes, click on "Education" above.
To learn more about becoming an AAP, Click Here to Register for our Free Webinar "So You Think You Want To Be An AAP" taking place on April 23 from 1pm - 2pm!
SFE's AAP Summer Study Program

SFE's 2020 AAP Summer Study Program will provide additional resources for you to employ in studying for the exam. An interactive program has been developed utilizing reading assignments and bi-monthly conference calls. In addition, an Accredited ACH Professional from the SFE staff will be available for email and telephone support.
The 2020 AAP Summer Study Program dates/times:
Time:
1:00 PM - 2:00 PM Each Session At Your Desk
Date:
May 7
May 21
June 4
June 18
July 2
July 16
July 30
August 13
August 27
September 27


Cost:
$200 Members
$400 Non-Members

Suggested AAP Study Publications
(Each publication is individually priced)
406 - 2020 Nacha Operating Rules & Guidelines - Hard Copy
406DA - 2020 Nacha Operating Rules & Guidelines - Digital Access (eBook)
406OL - 2020 Nacha Operating Rules & Guidelines - Online Resource (web-based)
ACHPro CD
ACHPro IPAD
AAP Flashcards
The ACH Compliance Manual
ACH Product Marketing Handbook for FIs
Revised Uniform Commercial Code Article 4A and the ACH System

AAP Continuing Education Credits
An AAP must earn 60 hours of Continuing Education, with no more than 20 hours earned in any one year, during the five year accreditation period. AAPs also have an option to retest during the fourth or fifth year if the Continuing Education requirements are not met.
Filing Deadline Date: March 31st (for prior year)
Late Filing Deadline - April 30th (late fee applies)
Contact Southern Financial Exchange to request a paper form. Call (800) 626-4733 Ext. 1121 or email tkottemann@sfe.org