Mobile App
SFE Conference 2020 Mobile App
This year's conference will feature a mobile app as SFE continues to move toward a digital world. In previous years, SFE has provided several printed documents namely: A Mini Schedule, Prize Drawing Form. Session Evaluation Forms, and an On-Site Guide. Within the mobile app, you will find these same features, and so much more.
If your company policy restricts loading apps to your mobile device, please reach out to an SFE staff member in advance of the conference. We will do our best to work around this restriction.
To access the app:
SFE's Conference mobile app is available to you through your smart mobile device.
Go to the App Store for Apple iPhones or to the Play Store on the Android
Search for SFE 2020 or SFE Conference 2020 and install (no fees apply). The Conference logo will be displayed as shown below.
Enter your email address and the password "SFEBRLA20". You must accept Socio's Terms of Service and Privacy Policy before the app can be accessed. See the screen below.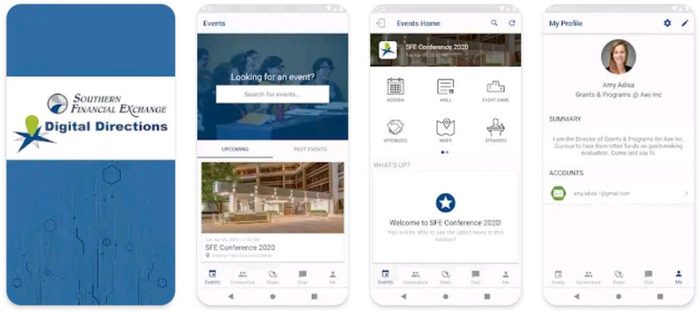 The middle section of the App (shown in the third image above) has three pages. Scroll to the right or back to the left to see various features that are available. Some features such as Event Game, Social Networking, Announcements, and Documents Folder will have information loaded closer to the conference dates.
Features of the mobile app:
Schedule – The app displays all sessions by day and time, location, session title, session description, continuing education credits by certification, speaker, and any documents that have been made available to SFE related to the session. You can create your own agenda for the conference by selecting the sessions you plan to attend.
Social Networking – This is a wall within the app for you to post comments or pictures taken at the conference. All posts are listed along with the user who posted it, the time it was posted, and the number of likes, comments, and reports. Each user's posts are viewable in the Social Activity section of their user profile.
Event Game – Historically, SFE has given away donated attendance prizes to attendees based on the completion of the Prize Drawing Form. That tradition will continue, but with a few new twists that will be revealed prior to or at the conference. Stay tuned for more information!
Attendees – Networking has never been so easy! All attendees at the conference will be listed and you can connect directly through the mobile app. Load your photo into your profile to make it easy to find connections. Once the connection has been made, all connections will be listed by clicking the connection's icon at the bottom of the app.
Speakers – Like your session speaker? Please provide an electronic evaluation. If you'd like to learn more about a speaker, the app contains titles, photos, bios and sessions they are participating in are listed.
Announcements – At the conference, SFE staff will post any announcements using this feature.
Overview – An ad regarding the conference.
Exhibitors – Information regarding all of the exhibitors is available to you. Click on the location feature within the exhibitor to help guide you to the location within the exhibit hall. An overview of each exhibitor, email address, phone and website are also posted for easy access.
App Guide – Should you need any assistance in negotiating the mobile app, just look here. Various articles are available to help you get started.
Profile (Me) – The app allows you to build a short profile of information. This will come in very handy as you build connections with others in the payments industry. Adding a photo to your profile will help others find you during the conference. You can load a personal photo into your profile by taking a picture with your phone, choosing from a library on your phone, retrieve your photo from Facebook, or retrieve from LinkedIn.
Any Questions! Email Tricia Kottemann at tkottemann@sfe.org.