EXHIBITS

RESULTS, RESULTS, RESULTS

Results - That's what you'll get by exhibiting at Southern Financial Exchange's 29th Annual Conference & Expo. So, if you want to make a statement to decision makers in all facets of the financial services industry, make sure your message is seen and heard April 23 - 25, 2019 at the Memphis Hilton, Memphis, Tennessee.

Exhibitor Program

The Conference provides a comprehensive program with the latest information on cash management, technology, payment system directions and industry-related hot issues, products and services. Once again, our Exhibit Hall will be featured and several conference events are scheduled in the Exhibit Hall.

Exhibitors and Sponsors will benefit from advanced publicity, as well as complimentary registration, signage, badge recognition and spot announcements at the conference. You will be:

announced in SFE publications and conference marketing promotions prior to the Conference.
listed on SFE's website.
distinguished by color-coded name tags for quick recognition by the attendees.
furnished conference attendee lists prior to the Conference.
invited to all Conference events and to hear keynote and luncheon speakers.

Besides a unique opportunity to spread your company's message, your exhibitor fee entitles you to:

A standard 10' wide x 10' deep Booth
One 6' table with white vinyl top and a pleated skirt on three sides, and one side chair
Three complimentary registrations per exhibiting company, allowing free meals and entry to conference sessions. Additional badges may be acquired at the member registration fee.
Company identification sign
Free listing in conference marketing materials
Pre-conference mailing list of all conference participants
Onsite registration list of conference participants
The opportunity to meet face-to-face with decision makers in the financial services industry
Double and triple booths subject to availability

Vendor Product Showcase:

Vendor must be an exhibitor at the conference
Six 30 Minute Sessions Available - Sold on a first come/first serve basis (April 24)
An opportunity to showcase your product
An opportunity to conduct a sales pitch
An opportunity to educate our attendees on the use and benefits of your product

Incentives Include:

An evening reception for all registrants and exhibitors in the Exhibit Area (April 23)
Networking continental breakfast in the Exhibit Area (April 24)
Coffee breaks in the Exhibit Area (April 23 & 24)
A luncheon function in the Exhibit Area (April 24)
Exhibit Area designed for maximum traffic flow
Exhibit Area attendance prizes given away by exhibitors

Exhibitor Fees & Acceptance:

Booth Pricing:
$895 per Booth before 12/31/2018
$995 per Booth after 12/31/2018
SFE Member Discount - $100
Booth & Vendor Product Showcase Pricing:
$1,295 per Booth AND Vendor Product Showcase before 12/31/2018
$1,395 per Booth AND Vendor Product Showcase after 12/31/2018
SFE Member Discount - $100
Exhibitor attendance is subject to acceptance by SFE

Register early to achieve the benefits for a longer period of time!

2019 EXHIBITORS

Cummins Allison Corporation - Booth #7

D D & F Consulting Group - Booth #19

Federal Protection, Inc. - Booth #15

Federal Reserve Bank - Booth #12

First National Bankers Bank - Booth #21

Georgeson, LLC - Booth #16

Loomis Armored US - Booth #9

Magic Wrighter, Inc. - Booth #11

ProfitStars - Booth #18

Sawyers & Jacobs LLC - Booth #24

SHAZAM - Booth #14

Southern Financial Exchange - Booth #20

The Clearing House - Booth #10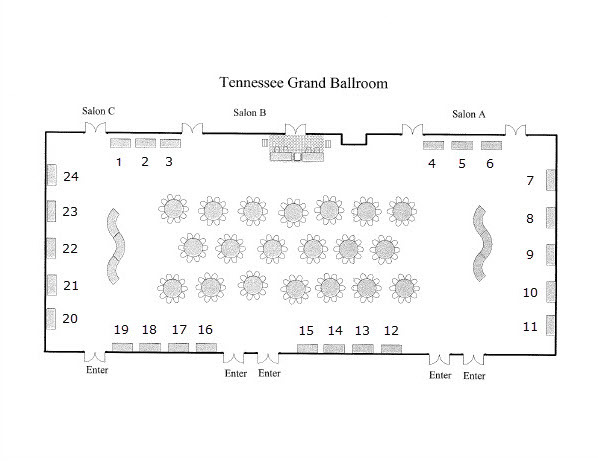 Don't miss this opportunity to become an exhibitor at the Southeast's premier gathering featuring the latest industry developments and financial visionaries!
---
---
Exhibitor Booth Sales
Tricia Kottemann
800-626-4733 or
504-525-6779 Ext. 1